You can now buy the classic A.F.0210. strap
Introduction
For many years the A.F.0210. watch strap has been a sought after item.  It looks good on a military watch.  But, as it is made of cotton webbing, few have survived the 70 years since its introduction.
Historically it is important as it has had a significant influence on the design of the NATO strap.
The history of the strap is outlined in thespringbar articles on WWII watch straps, and post WWII military straps, leading to the birth of the NATO strap.   
https://thespringbar.com/blogs/guides/the-nato-strap
https://thespringbar.com/blogs/guides/some-mil-spec-stuff
The A6/AF0210 strap, usually just marked AF0210, was part of the lightweight 1944 pattern, or 44 pattern webbing initially issued by the MoD as Jungle Equipment.  All this Jungle Equipment was designated with a store reference A6/AFxxxx.  
Designed for jungle and tropical climates 44 pattern webbing was introduced in 1945 for the Pacific theatre just as WWII ended, and was still in use in one form or another until it was replaced by Personal Load Carrying Equipment (PLCE) 90 pattern webbing.  
It was primarily used in campaigns in Palestine in 1946, the Korean war, the Malayan emergency, in Kenya against the Mau-Mau, far East campaigns and in the Suez Campaign.  Australian and NZ troops serving with British forces in Malaya during the 1950s were issued with it.
Above is a soldier in Malaysia, with a watch on an AF0210 webbing strap, cooking in an AF0225 mess tin, (A6/AF0225 Tins, mess, rectangular, aluminium are still in production), with an AF0100 machete (or parang) in the foreground (marked M.S. Ltd 1945 AF0100, with pheon).  The parang scabbard in the foreground was store reference AF0101.  
Military watch enthusiasts have attempted to recreate the strap to complement their watches, but have been hampered by the inability to find both the cotton webbing, and the correct shouldered buckles.   During these attempts, a desire for wider hommage straps has also surfaced.
Now a crowdfunding site has been launched to overcome these problems, and the classic strap could be yours, either as a faithful reproduction, or as a wider hommage strap.
https://pozible.com/project/a-f-0210-watch-strap-remade
Prototype manufacture  - the A.F.
02I
0.
Previous attempts at reproducing the  A.F.0210. watch strap have hit hurdles, primarily as the webbing is no longer in production, and the original shouldered buckles are not available.  
A faithful copy will be produced with remanufactured cotton webbing, and shouldered buckles, which will eliminate these compromises.   The reproduction will be so authentic that the straps will be stamped and the buckles embossed A.F.02l0. to ensure they are not mistaken, or on sold, as originals.
A few A.F.0210. straps survive, and they differ slightly, as could be expected for a hand sewn strap made in difficult times in cottage industry conditions.   The length, the buckles, the sewing pattern, and strap colour all vary slightly.   Some later buckles and loops are selenium dioxide treated to make black.
Below is a NOS strap 235mm long, and a 250mm long original A.F.0210.
Based on all available internet images, and measuring several actual straps, including a NOS strap purchased for quality control purposes, the design protocols for the A.F.0210. faithful reproduction have been recreated.
Key elements of the design are :
A 44-48 warp thread loose weave  khaki cotton webbing, 17mm wide and about 0.75mm thick.
A one piece folded strap, about 250mm long, with stitching all round at 2mm from the edge.
A shouldered brass buckle, with a depression to retain the buckle tongue.
A sharpened buckle tongue which allows the strap to be fitted to the wrist in any position.
No eyelet holes punched in the strap.
Brass loops positioned 10mm and 36mm back from the buckle, retained by the folded strap.
Stamped inside, A.F.0210. with a pheon.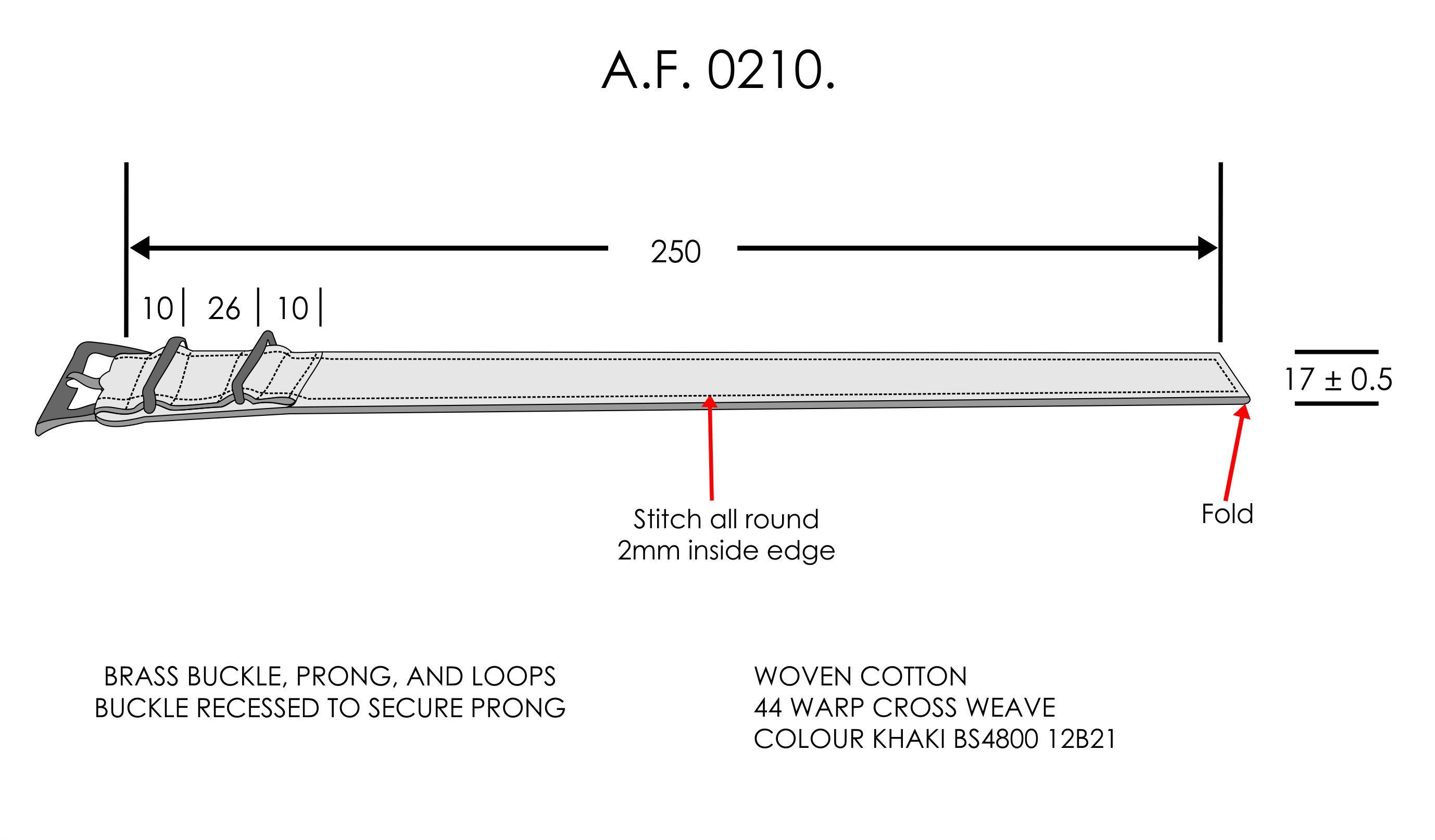 A.F.0210. protocol drawing.
The cotton webbing has proved impossible to source off the shelf, so the decision to remanufacture the webbing has been taken.  Below is a test strip being measured during production.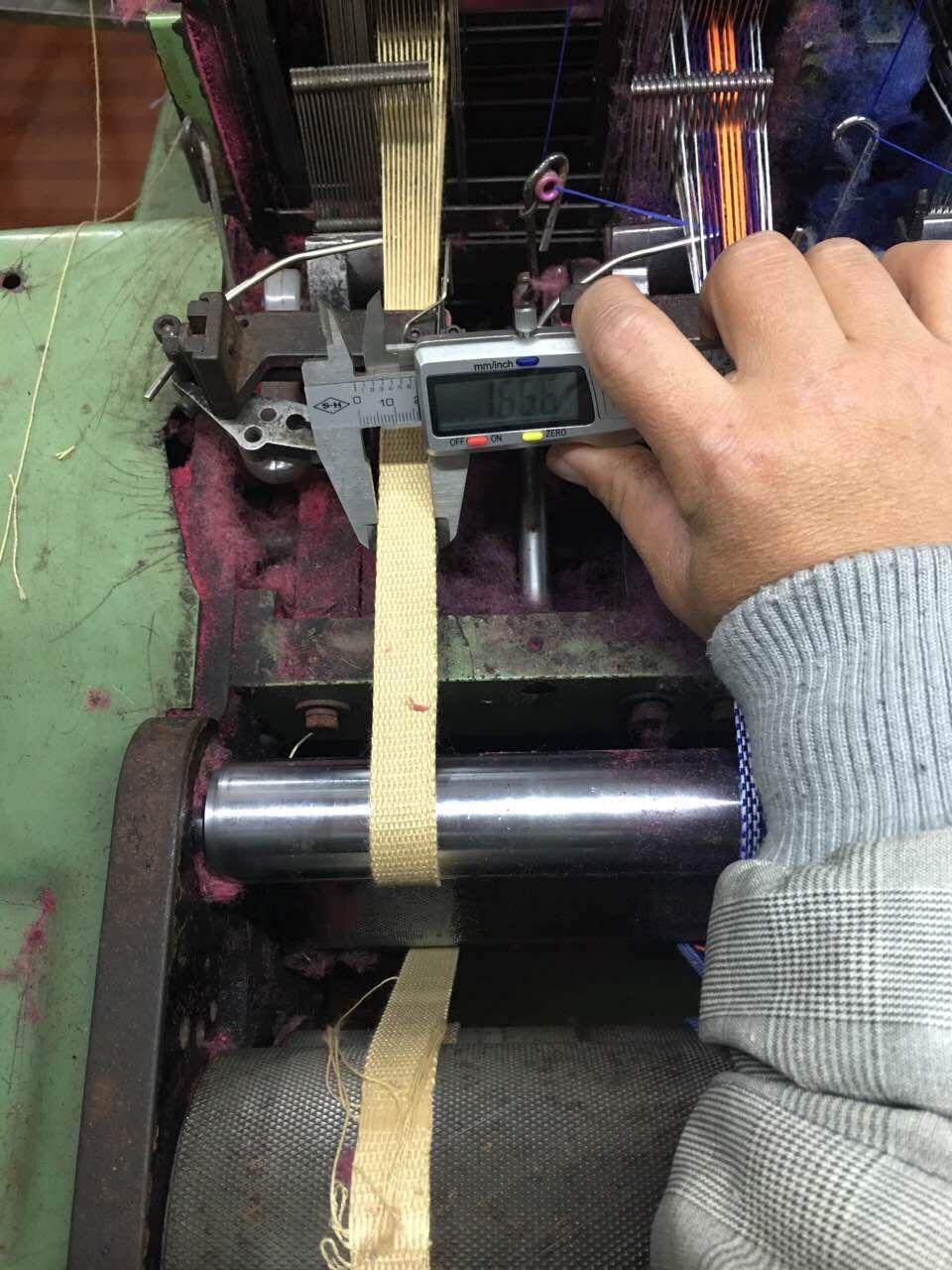 After several unsuccessful weaving attempts, prototype 44 warp thread 17mm wide, 0.75mm thick webbing has been made.      A 10m long strip was test woven.   The micrometer above indicates 16.66mm width on the loom.  
A comparison between the webbing in the woven test strip and two original A.F.0210. straps is shown below.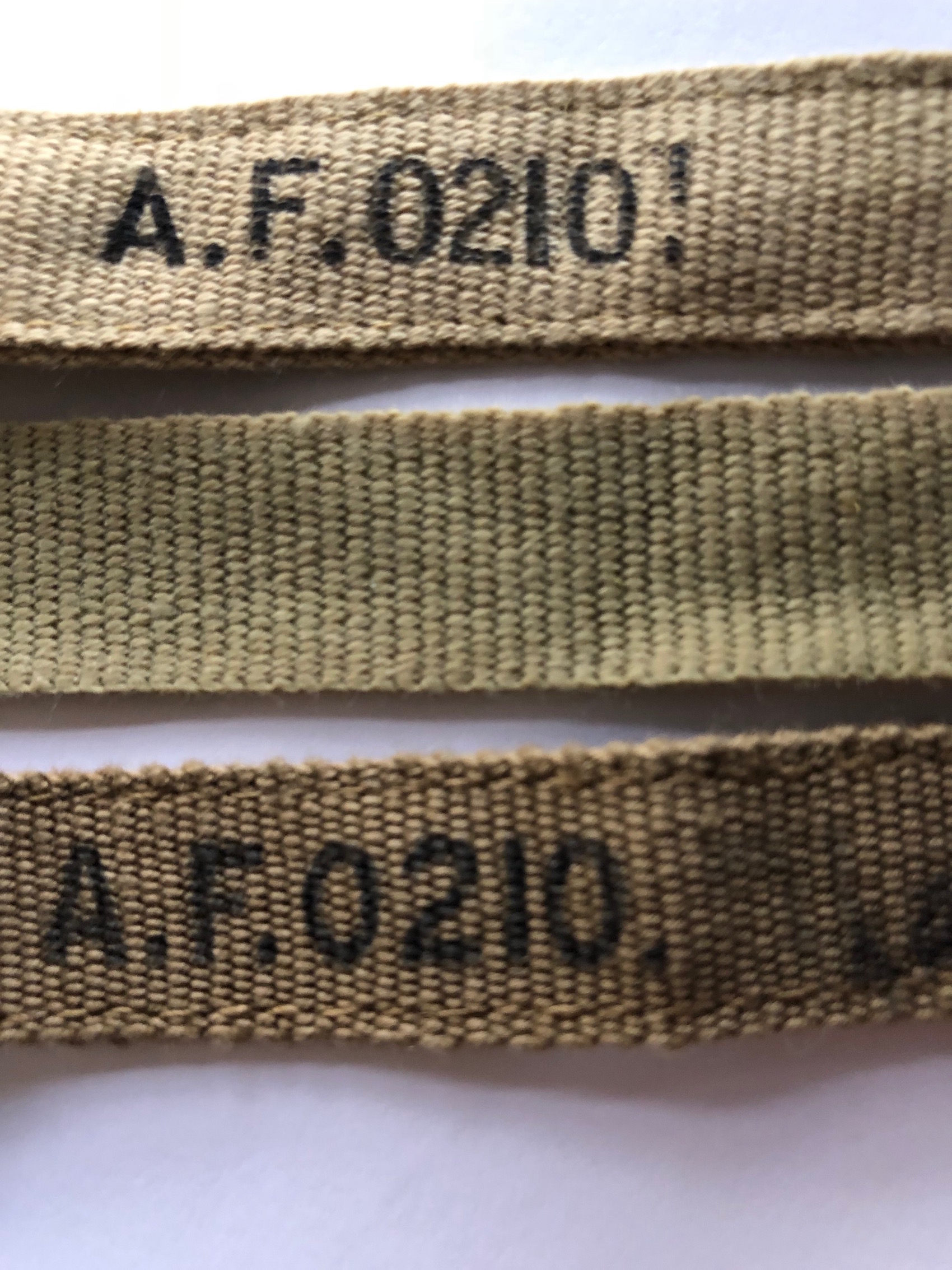 The shouldered buckles and loops have also been remanufactured.
Producing the mould for buckle production is expensive, so 3-D printing technology has been used to proof the buckle production, and to print buckles for prototype production.
The original buckles vary, but two have been scanned in a 3-D scanner, and based on all available data, the buckle has been modelled in 3-D. 
Pre-production samples have been made in a 3-D printer using white ABS resin, and painted black.    As a proof of concept for possible wider hommage straps, the the 3-D model has been widened, and 20mm and 22mm buckles have also been designed.  

 17mm, 20mm and 22mm prototype buckles in 3-D
Below are the first prototype 17mm buckles in plain brass, polished brass and antique brass.
A.F.02l0. embossing has been added to the underside of the buckle, and this will identify the faithful reproduction A.F.0210. straps.
Buckle production has commenced.
The pre-production 17mm buckles were made in ABS, painted black, and fitted with tongues to enable prototype straps to be sewn. 10 prototypes have been made from the 10m test strip of webbing in accordance with the protocol drawing, but of different lengths, from 250mm to 270mm long.   One outcome has been confirmation that the NOS strap length of about 235-250mm will probably be too small for some wrists.
The samples have been stamped A.F.02l0.™ to indicate that the strap is a faithful reproduction.   All production straps will be stamped A.F.02l0.™, without the pheon often found on original straps. 
This is how the strap will look on a 215mm wrist.
What might your W.W.W. watch look like on a contemporary strap?
Images of W.W.W. watches on A.F.0210. straps are rare.   We have created this collage so that you can zoom into your favourite W.W.W. watch and gain some idea.   The more detailed article is on this site.

Next Steps
What will happen next for an interested person?
The crowdfunding site is live, and you can order a watch.
https://pozible.com/project/a-f-0210-watch-strap-remade
If you send an email to us on a.f.0210.strap@gmail.com we will keep in touch, and let you know.
Or, simply enter a comment in the field below.
Tell us whether you are interested in 17mm, 20mm or 22mm straps, either the faithful A.F.02l0.™ reproduction, or the wider hommage straps.
The A.F.0210. strap with a fabric keeper.
As part of the Suez campaign, the A.F.0210. strap was modified, perhaps using 6B/02593 compass webbing.    A fabric keeper has been added to the strap on the left.   This type of strap was available at the end of WWII to US troops as the VB Hygienique strap.  It is proposed to produce straps of this type as well.
An 1953 Omega CK2777 on a NATO type strap of unknown origin, using A.F.0210. webbing, is shown above. Also shown is an IWC WWW watch, with NATO dial, on an A.F.0210. strap.  (Image MWR forum user : T.O.W.S. UK.)
These straps are the true precursor to the MoD NATO strap.